Customs in Cuba
How much cash can to travel to Cuba?
More than $ 5000 USD or its value in another currency you must declare it in the customs. (in a customs declaration paper that is sometimes given to you on the aircraft or when arrives in Cuba). Only up to $ 5000 USD or its equivalent in another currency is allowed to entry the country.
In the Customs only tariffs are paid plus the services for the dispatch that cost $ 2.00. The payment is made only in the Customs box with a ticket that is delivered to you after having weighed your luggage or checked your customs declaration. Demand the cash receipt in case you have been charged more than usual, keep it as proof.
The passage through customs is usually somewhat exasperating because sometimes the flights are delayed and the passengers of some flights accumulate in the same room where the customs operates, so we suggest the following to avoid inconvenience and leave Quickly from customs with everything in order:
Fill the Customs Declaration correctly for passengers.
Bring medications and other items that are free of charge at Customs (such as Personal Laptop) in separate packages and independent of the rest of the luggage.
Do not bring imported articles that are prohibited or that are subject to the permission of other organisms without possessing the authorization document.
Do not bring repeated items in excessive quantities that can be considered commercial.
Inform the Customs Inspector if you travel with shared baggage (baggage of more than one passenger joined in one or more packages).
For more information contact the following telephones: 883-8282; 883-7575; and 881-9732 (all in Havana City), you can also visit the customs website for more detailed information at (Aduana de Cuba) or contact via e-mail to publico@agr.aduana.cu
Applicable Provisions (Quoted from the website of the Customs of Cuba):
TOURISTS are considered to be passengers who are not Cuban citizens and who permanently reside abroad.
TOURISTS enjoy the provisions of the Convention on Customs Facilities for Tourism. They have the right to bring their personal effects with them, provided that they are for their personal use, that they carry it with them or in the luggage that accompanies them, that there are no grounds to fear that there is abuse and that they are re-exported upon their departure. from the country.
Permitted items:
Personal effects are considered, in addition to the clothing and other items that tourists reasonably need for their use, taking into account the circumstances of the trip, others according to the type of tourism to be carried out, such as:
Personal jewelry
Photographic and cinematographic camera accompanied by a reasonable quantity of films, cassettes and accessories of the same.
Musical instrument
Portable audio and video playback device (portable DVD), including recorders, portable compact disc players, dictaphone with tapes and discs.
Portable radio receiver apparatus.
Portable television set.
Portable typewriter.
Personal computer (laptop) or table (like Ipad), you can only bring one or the other.
Cell phone.
Children's car
Wheelchair for invalids.
Sport teams.
Peripherals to store data, USB, Mp3 or Mp4 player, IPOD, calendar book, PALM or similar.
If you only bring with you this type of personal items mentioned above and do not bring more than $ 5000 USD or equivalent in another currency then you do not have to fill out the Customs Declaration for Passengers.
The aforementioned facilities may not apply to people traveling to Cuba more than once a month, and even once a month, or to children under ten years of age.
What to do if your luggage is overweight.
The Customs of Cuba allows you to bring with you 30 kg (per passenger) between unaccompanied baggage (checked) and hand luggage at no cost. In addition, you are entitled to carry 10 kg more of medication at no additional cost.
If you meet these requirements then you are a Green Light passenger and can withdraw from customs control. Pick up your suitcase, change some money at the exchange house (CADECA) that is in the airport, and remember to ask for small bills of 1, 5 and 10 cuc to pay the taxi.
In case of carrying more than 30 kg of luggage between hand luggage and unaccompanied luggage, then they will take you weighing your luggage to a digital weight, each kilogram from 30 kg will be charged at 10 cuc.
In case of carrying import items that customs does not consider miscellaneous (personal clothing, gifts, personal items), you must make a customs declaration. This happens mainly when you carry electronic equipment, computers or cell phones that are not your own, also with some items considered for trading, we explain later …
How much alcohol and tobacco can I bring from Cuba?
You can buy and take an limited amount of rum and tobacco to your country, if you are over 21 years old. The first 2 bottle of alcohol and the first 100 cigars are tax free, provided the total dollar value of the items you bring is less than $800. The products must be for personal use.
See to:
Medical Insurance to travel to Cuba
Summary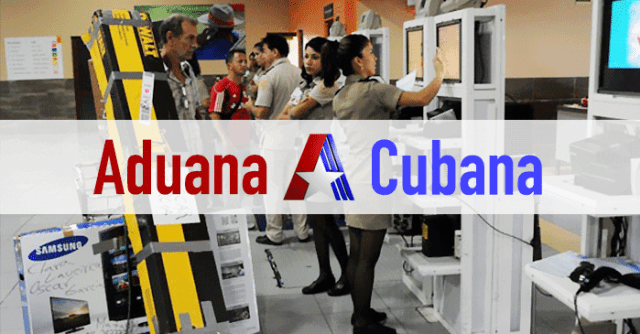 Article Name
Description
⛔ How much cash can to entry to Cuba? What to do if your luggage is overweight? Permitted items in Customs of Cuba.
Author
Publisher Name
Publisher Logo